16 Dec 2021
Balmain Hair Couture and ADA Cosmetics extend global partnership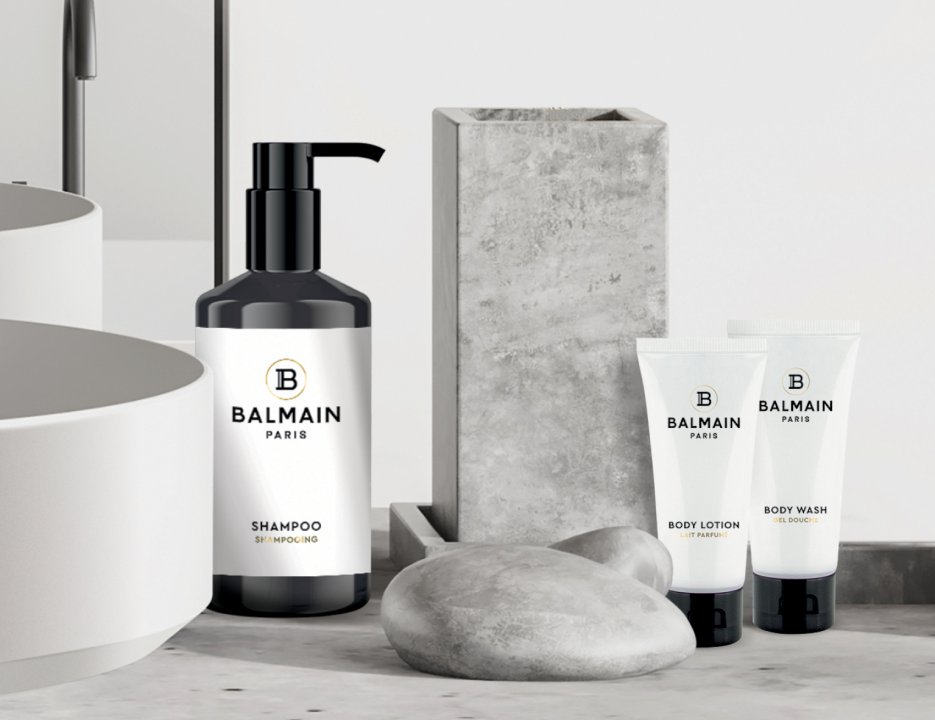 Balmain Hair Couture, the hair care division of the French haute couture house, and ADA Cosmetics have extended their partnership. Starting January 2022, the leading hotel cosmetics manufacturer will take over worldwide production and distribution of the Balmain hotel beauty amenities. This adds to their already existing partnership of serving Grand Hyatt Hotels globally.
Kehl/Germany, December 2021. Balmain Hair Couture will be working in an even closer partnership with hotel cosmetics manufacturer ADA Cosmetics in the future. The corporate division of the French haute couture house has been supplying hair care products, extensions, and accessories licensed under the Balmain brand name since 1974.
Since the beginning of 2020, Balmain Hair Couture and ADA Cosmetics have been supplying exclusive Balmain cosmetics Grand Hyatt hotels. From January 2022, Balmain and ADA Cosmetics will build on this success and bring the brand's amenities to luxury hotels across the globe. Australia, New Zealand and Polynesia will be served by another partner of Balmain.
"Excellence and uncompromising quality are our benchmark," says Steward Guliker, CEO at Balmain Hair. "This also applies to our choice of partners. We are delighted to have ADA Cosmetics, a highly competent and successful partner, at our side."
ADA Group CMO Gerd von Podewils is looking forward to deepening the partnership with Balmain. He sees ADA's long-standing contacts to the hotel industry, strong commitment to developing sustainable and safe dispenser solutions, and seamlessly networked sales organization as the best prerequisites. He also emphasizes that the Balmain brand is a perfect match for the new luxury concepts of sophisticated luxury hotels: "The Balmain care lines reflect an elegance, savoir-vivre and Parisian chic that enable hoteliers to pamper guests with their own unique approach to exclusivity."
CORPORATE CONTACT
ADA Cosmetics International GmbH I
Phone +49 7853 898 0 I Email: info@ada-cosmetics.com