06 Sep 2019
ADA International places greater emphasis on sustainability Organic cosmetics in organic tubes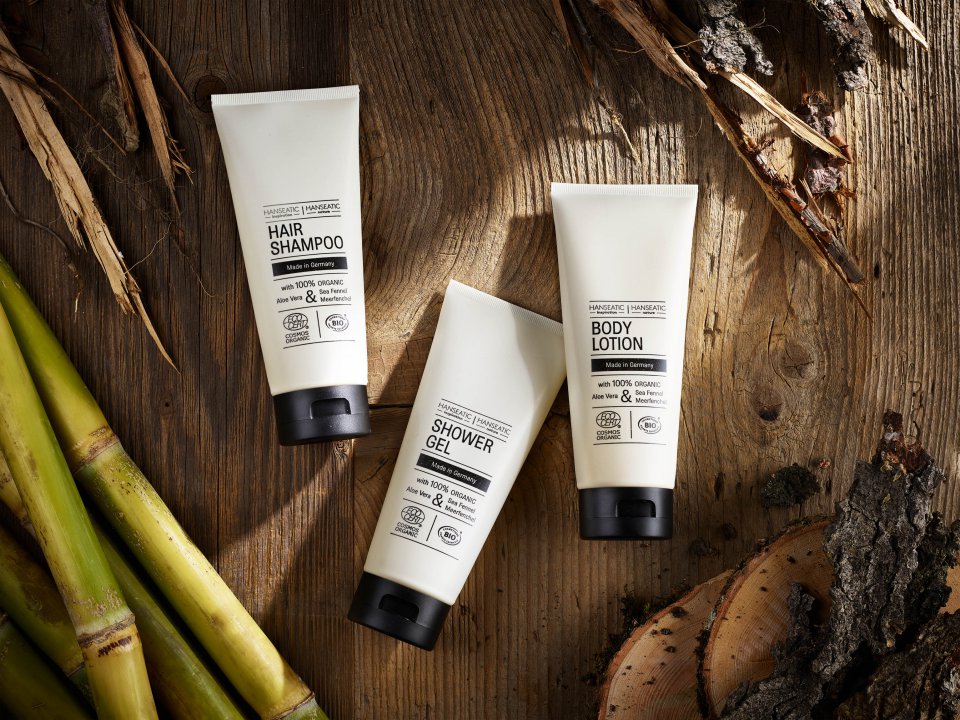 For the first time, ADA International is using the PICEATM wood tube for a personalised range of cosmetics for the Hapag Lloyd Cruises shipping line. The tubes, which are made from 95 percent renewable raw materials, were nominated by the German Hotel Association (IHA) for Product Innovation of the Year in 2019. For ADA, this represents a further step towards the sustainable development of hotel cosmetics.
Kehl, July 2019. ADA International has developed a special range of organic cosmetics for the ships of the Hapag Lloyd Cruises expedition fleet. The cosmetics are presented in a novel form of packaging: the organic "PICEATM wood tube" from Neopac. This is produced from 95 percent renewable raw materials: sugar cane and FSC-certified spruce waste from Germany. It can be fully recycled – the wood content poses no problem for the recycling process. In 2019 the German Hotel Association (IHA) nominated it for the Product Innovation of the Year award. The tubes have not previously been used in the hotel trade.
Aside from the recycling aspect, the tubes offer a significantly better environmental balance and leave a carbon footprint that is up to 40 percent less than conventional plastic tubes manufactured from petroleum-derived polyethylene. At the same time, the organic tubes offer the same qualitative properties with regard to barriers, decoration and food suitability.
Hapag Lloyd Cruises provides its guests with shower gel, hair shampoo and body lotion in the 200ml tubes. These organic cosmetics, containing aloe vera and samphire and certified in line with the international Cosmos Organic Standard*, offer a sophisticated maritime fragrance composition featuring slightly salty, ozone-rich, aquatic components. The environmentally friendly PICEATM wood tubes with their special surface structure underline perfectly the naturalness of the products.
In line with its Eco-Charta, ADA International is placing greater emphasis on the use of natural resources and promoting sustainability in hotel cosmetics in three key areas: packaging (increase in the recyclable content), ingredients (increase in the percentage of natural resources) and dispenser systems (development of dispenser solutions as an alternative to individual portions). At the same time, ADA International also sees itself as an advisor to its customers in all issues regarding the sustainability of hotel cosmetics. "Through the international nature of our business, we are able to identify developments and trends in good time and offer our customers the corresponding solutions. Sustainability is a real priority for us in this respect, as hotels will be increasingly judged on their approach to this topic in future," explains Wilhelm B. Könning, CEO of ADA International.
About ADA Cosmetics International
For 40 years ADA International has been developing and producing high-quality hotel cosmetics for international 3 to 5-star hotels. The portfolio includes lifestyle and luxury brands as well as intelligent Dispenser Systems. ADA also has its own research and development department to invent and develop tailor-made cosmetics concepts for the hotel industry. Sustainability is an integral part of its corporate philosophy. This is true of its resource-saving manufacturing processes all the way to its environmentally-friendly product innovations. With 700 employees worldwide and an international sales and service network, this long-standing company has a presence in over 50 countries in Asia, Europe, the Middle East and the USA.
CORPORATE CONTACT
ADA Cosmetics International GmbH I
Phone +49 7853 898 0 I Email: info@ada-cosmetics.com