22 Nov 2021
ADA Cosmetics launches SHAPE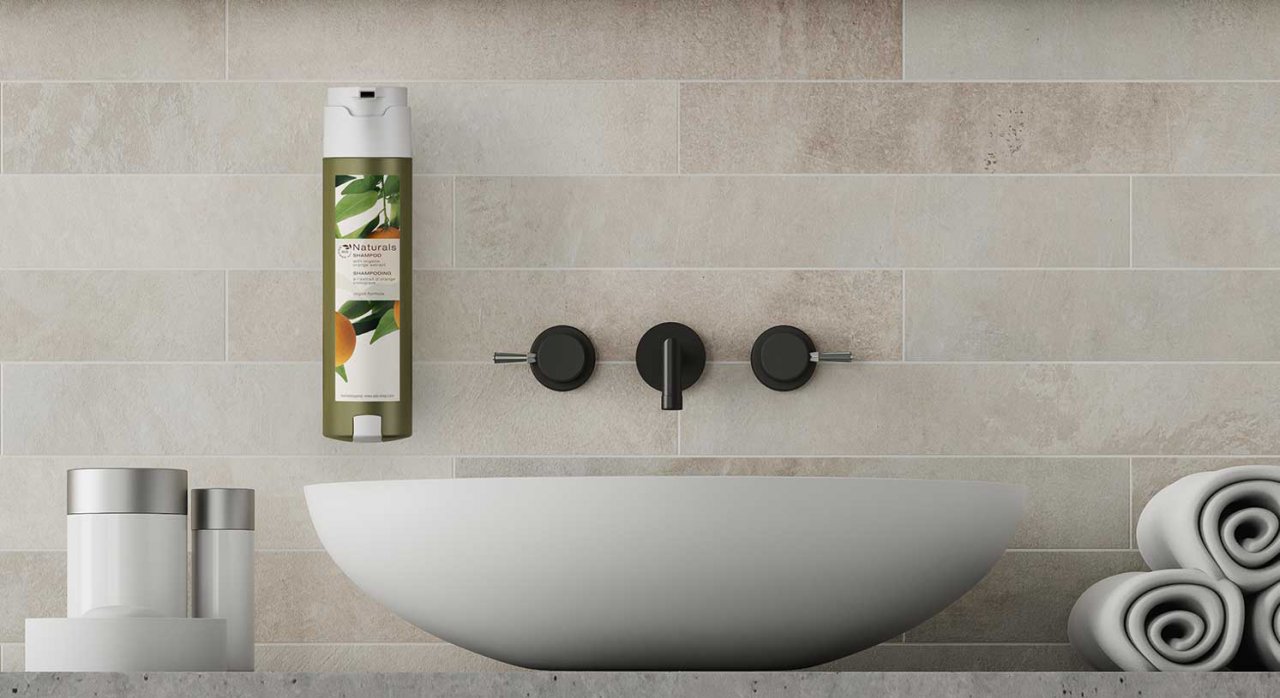 Safe and sustainable
A new dispenser system for body care products, combining sustainability, hygiene, aesthetics, and function: ADA Cosmetics will bring its new SHAPE system to market in early 2022.
Kehl, November 2021. ADA Cosmetics, the inventor of the first dispenser system for the hotel industry, will be introducing its latest development in early 2022: SHAPE – Sustainable. Hygienic. Aesthetic. Pump. Evolution. SHAPE fulfills two of the biggest requirements of our times – sustainability and safety – without compromising design and performance.
Aesthetics and functionality
In its design, SHAPE conforms to ADA Cosmetics' Smart Care System, the company's best-selling dispenser system so far with millions of cartridges sold. Its slim cartridges appear light and clear, conveying an impression of value and elegance. One new element in SHAPE is the easy-to-use pump cap. A slight press of the finger is enough to provide guests with the exact portion of soap, shower gel, or body lotion needed. Precise, drip-free, and clean. This combination allows ADA Cosmetics to offer even greater variety and to accommodate different user preferences.
Safe: SHAPE meets the strictest hygiene requirements
When developing its new dispenser, ADA Cosmetics placed a premium on maximizing safety. Guests want to feel safe and protected, particularly in highly sensitive areas such as bathing and wellness. This has become even more critical during the coronavirus pandemic, and because scientific studies show that refillable dispenser systems are frequently contaminated with bacteria. SHAPE is designed as a closed system: a secure precision cap reliably keeps germs out of the cartridge. Cosmetic products within the cartridge remain hygienically clean – to the last drop. The cartridge's straight lines and smooth contours make it easy to clean and disinfect. Transparent strips on the side of each cartridge show how much liquid remains. An empty cartridge can be easily replaced – ready for guest use again in seconds.
Sustainable: up to 85% less liquid and plastic waste
The tamper and theft proof SHAPE system consists of 300 ml bottles with a pump device. Each 300 ml bottle replaces approximately 20 to 25 mini-bottles. Because each cartridge is completely emptied, no residue ends up in the waste stream as often happens with mini-bottles. The cartridges and pump caps are produced from non-toxic polypropylene and are 100% recyclable. This enables SHAPE to reduce plastic and liquid waste by up to 85%. The system is also budget-friendly, lowering costs by up to 40% as compared with mini-portions.
Fifteen different cosmetics collections are currently available for SHAPE, ranging from lifestyle assortments to certified natural cosmetics, as well as luxury and designer brands. Wall brackets for the bottles are available in white, black, and brushed or polished chrome. ADA Cosmetics can even design the dispenser bottles to match a particular customer's brand identity. The company also offers a comprehensive service package to ensure a smooth transition from mini-bottles to dispensers. Learn more at www.ada-cosmetics.com/shape.
CORPORATE CONTACT
ADA Cosmetics International GmbH I
Phone +49 7853 898 0 I Email: info@ada-cosmetics.com